Dealership in Focus: Langley Chrysler
Newsroom
Jan 27th, 2015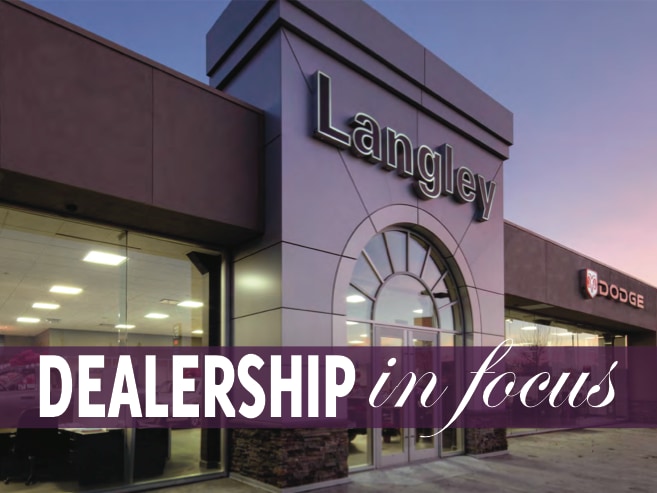 Delivering Exceptional Experiences
It's emblazoned across the dealership's boardroom wall: "Our inspired team will lead the industry by providing exceptional experiences." This vision is born from the staff and inspired by the leadership team, and is clearly on display throughout the dealership. In an effort to create exceptional shopping experiences for customers, Langley Chrysler begins with creating an exceptional working experience for employees.
In many workplaces, limited interaction between staff from different departments is common. Langley Chrysler took this challenge head on. One look at the 'staff room' instantly demonstrates the dealerships desire to create a special work environment. The warm atmosphere contains multiple cooking options, flat screen TV's and leather upholstery that is reminiscent of a classy restaurant rather than a traditional staff lunch room.
In addition to employees enjoying spending time in this environment, it has increased interaction between employees across all departments; service, sales, technicians and management. It has led to greater continuity across the dealership and added a unique dimension to the company culture. Just down the hall is a fully stocked gym, complete with cardio equipment, weight machines and flat screen TV's. Individual lockers and multiple showers add to the amenities one would expect at your local gym. Even the staff washrooms are given the royal treatment, seemingly pulled from a Georgie Award winning West Vancouver home. The men's room comes complete with a separate changing room akin to NHL team standards, with a spacious stall for each employee. You half expect to see numbered jersey's hanging at each stall when you enter the room.
The behind the scenes employee areas are well appointed; the front facing customer areas are no different. The Service Department is an area of strength for Langley Chrysler, and management has taken dead aim at setting itself apart from competitors by offering superior customer service. A dedicated two person call centre is strictly for service clients, minimizing call-holding time and ensuring a quick and painless appointment scheduling process. Professional Service Advisors deliver a VIP service experience that encourages repeat customers. Two flat screen TV's display ongoing promotions and discounts, and keep a live- time status on each customer's' appointments and expected wait times.
Customer comfort is a primary goal; complimentary refreshments, reading material, flat screen TV's and Wi-Fi internet create a relaxing and enjoyable atmosphere. The Langley dealership also offers a very popular courtesy shuttle and car rental service for those needing to reach another destination. The dealership showroom is friendly and welcoming, with a comfortable customer lounge offering refreshments, reading material and a flat screen TV. Every effort is made to ensure that the service experience is exceptional for each customer.
"For us to stand out from our competitors, and provide a memorable and exceptional experience for our clients," says Michael Trotman, President and CEO of Langley Chrysler, "I don't feel we can ask our team to do that, unless we do that for our team." "Our inspired team will lead the industry by providing exceptional experiences."
Langley Chrysler gets it right; support a healthy lifestyle, focus on corporate culture and create unique customer experiences. As dealerships continue to develop from mom and pop businesses into multimillion dollar operations, Langley Chrysler is leading by example, one experience at a time